-May 5, 2022
Apartments for rent in Auckland
Apartments for rent auckland
Check out our apartments for rent in Auckland here:
https://www.trademe.co.nz/a/search?member_listing=4260300&shipping_method=all&bof=fhK09LqE
Where to start when looking for your next Auckland city home
Looking for a new place to live can be daunting. You might not even know where to start. But don't worry, we're here to help!
Here are some tips on where to start when looking for your next Auckland city home.
Start by figuring out what you need and want in a new home
When it comes to finding a new home, there are many factors to consider. First and foremost, you will need to assess your needs and wants in a new home, taking into account things like location, size, layout, amenities, and more. For example, if you enjoy spending time outdoors, you may want to focus on properties with large backyards(look at houses outside of the city centre) or pools(a lot of apartment complexes have pools - check out the adverts or ask the viewing agent to confirm).
Next, start researching different amenities that are important to you, such as appliances, utilities, parking spaces, and security features and what level of furnishing you want or need. If you have your own furniture unfurnished might suit. If you dont have any furniture you might be interested only in fully furnished properties. Partially furnished properties tend to come with large furniture items (beds, sofa, tables, appliances) but won't have soft furnishings or smaller chattels like towels, sheets, cutlery, cookware or glassware. Each property will be different so don't forget to ask!
Once you have a clear picture of what you're looking for and what is most important to you, you can start researching different options and comparing different properties to find the right one for you. Whether it's an older home with character or a newer build with all the latest conveniences, there is sure to be something that perfectly fits your needs and preferences. So don't wait any longer – start searching for your dream home today!
2. Narrow down your search by neighborhood or area
When narrowing your search for a new home, it can be helpful to focus on a specific neighborhood or area. This allows you to get a better sense of the types of homes and amenities that are available in your price range. Additionally, it can be easier to find a home that meets your specific needs when you know which area you want to live in. For example, if you have children, you may want to look for a home in a neighborhood with good schools. Or, if you work from home, you may want to find an area with good Internet access. By narrowing your search to a specific neighborhood or area, you can save yourself time and effort in your search for the perfect new home.
3. Consider your budget and what you can afford
When it comes to renting property, it is important to be realistic about your budget and what you can actually afford. There is a wide range of rental options available depending on your needs and preferences, but you should aim to find a place that falls within your financial means without compromising on other priorities, like location or amenities. In order to determine your budget, you will need to do some research and calculate all of your monthly expenses, including rent, utilities, transportation costs, and food expenses. Once you have this information, you can use it to assess which types of properties are in your price range and make the best decision for your situation. Ultimately, it is essential to strike a balance between affordability and quality when choosing where to live. Auckland is a notoriously expensive city and you don't want to overstretch yourself.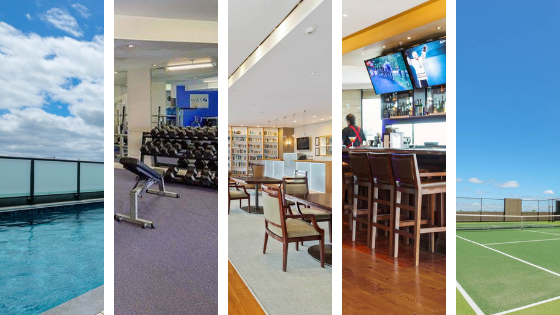 The Spencer on Byron, 9-17 Byron Avenue, Takapuna has brilliant facilities: pool, gym, bar, restaurant, spa, tennis court.
4. Check out apartments for rent in Auckland online
There are many benefits to renting property, especially in a big city like Auckland. One of the biggest advantages is that you will have more flexibility when it comes to your living situation. You can easily move to a new apartment if you need to, without having to worry about selling your home or finding a buyer for your current property. Additionally, renting gives you the opportunity to try out different neighborhoods and find the one that best suits your needs. And finally, renting can be much less expensive than buying a home, especially if you are only planning on living in the city for a few years. So if you're looking for a place to call home in Auckland, be sure to check out apartments for rent online.
5. Tour potential homes to get a better idea of what you're looking for
Renting a property can be a great way to live in a home you love without the long-term commitment of a mortgage. However, it's important to take the time to tour potential homes to ensure that you're making the right decision for your needs. When touring a rental property, be sure to pay attention to the condition of the home, the amount of natural light, and the size of the rooms. Additionally, it's important to consider the neighborhood and whether it's safe and convenient for your lifestyle. By taking the time to tour potential rentals, you can be sure that you're choosing the perfect home for your needs.
The Statesman, 1 Parliament Street, Auckland Central has both a pool and gym and is located in an ideal place for both city workers and students alike.
6. Apply and get your new home!
Once you've done some initial research and identified a few promising rentals, it's time to start putting together your application! When submitting an application, always be sure to include all requested documents and written references from past landlords or employers. If the landlord seems hesitant or reluctant at any point during the process, don't be afraid to ask questions about their concerns – this will help ensure that everything is above board and puts your mind at ease. Finally, be sure to communicate with the landlord consistently during the application process and throughout your tenancy. This will help you maintain a good relationship with your new landlord and ensure that your tenancy is as smooth as possible.
With these tips in mind, finding an apartment for rent in Auckland should be a breeze! By following these simple strategies, you can be confident that you're finding the best possible rental for your needs.
So get out there and start looking for your new home today!
Our latest listings are on Trademe at this link: https://www.trademe.co.nz/a/search?member_listing=4260300&shipping_method=all&bof=fhK09LqE
We have a wide range of offerings that changes frequently so check back later if you don't see something you like today. We have studios, one bedrooms, two bedrooms, three bedroom apartments with one bathroom or more. Most will have a private deck or balcony and be in walking distance to the City Centre. Most our of properties to rent will have swipecards for security and easy access. Our city centre apartments tend to be near great public transport links and some will have great views from the lounge or master bedroom over the auckland harbour. If you are looking for a well located unit we will have something for you!
If you are looking for something quiet in the city you are best to go for units that are higher up in the building. The higher the floor, the less road noise and more quiet the unit will be.
Pets are a wild card in the city. It is often easier to find somewhere to rent with a pet in the suburbs instead of in an apartment. Apartments have body corporate rules as well as what the owners choose to accept so even if the owners dont mind pets, the body corporate might. Also most pets enjoy a garden which the city centre doesn't have a lot of.